About Rose
Rose Lukjanenko was born during the early post 2nd world war period in West Berlin and the family became migrants to Australia in 1950.
Growing up with close connections to the traditional Russian Orthodox Church from her parents, the holy icon image was always present and inspirational, more than just art but allowing the observer to become personal with the subject.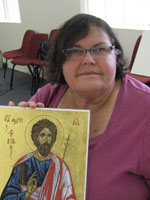 Prior to meeting master iconographer and teacher, Michael Galovic in 1999, Rose had never drawn or painted. Through icon painting Rose has found peace, solace and a way to express herself within the structured Byzantine art form.
Rose's working life involved 43 years of nursing both within Australia and overseas.
Recently, (June and July 2009), Rose took a pilgrimage journey into Russia following the history of icon painting to the present day through the churches, cathedrals and monastery's from the 10th century onwards.
Favorite periods in icon painting are the Cretan from the 2nd half of the 15th century to the end of the 16th century and the Russian, from the 11th century to the end of the 16th century.
Part of the enjoyment of preparing to paint a religious subject is the research into the history of the art form, the guidelines for the colour selection as they are symbolic and traditional and cannot be of the whim of the artist. Looking at the history of the Byzantine period the Empire included both east and west and developed a specific artistic image and language from the beginning of the 6th century. Then a classical style came from the Greek world and this heritage spread throughout the Christian world as Byzantine art, with its images and style varying at different periods and cultures. This art form continued from Constantinople to the 14th and 15th century and spread to Russia from the 10th century. The symbolic meaning and purpose of an icon brings a fascination for learning the technique and understanding its history, the different artists and styles of a period and region it was developed, the process becomes alive just like listening to sacred music.
Icons by Rose
`
Trinity
St Andrew: Full
St Andrew 1
St Andrew 2
`
Vladimir Virgin
St Luke
Mary and Baby Jesus
Mary Magdelene, Christ Risen
`
Archangel Gabriel
Archangel Michael: Full
Archangel Michael
St John the Baptist
`
St Luke: Full
St Panteleimon
St Andrew the Apostle
St Elizabeth & St Barbara
St Symeon
St George & dragon
St Theophanes
The Virgin of the Yaroslavle
Contact
If you are interested in any of these icons, Rose can be contacted via email: roselukey@optusnet.com.au