About Olga
Born in Australia, Olga's passion for icons began as a child experiencing the beauty of the Russian Orthodox church of her Russian immigrant parents. As an adult, she was moved to create icons when she met her master iconographer teacher, Michael Galovic, in 1999. His teaching unlocked for her the profound spiritual content of the image of the invisible, which is the icon.
Olga's professional life has been in management consulting. She is currently taking sabbatical leave to study meditation and related techniques for awakening of consciousness and vision of the heart.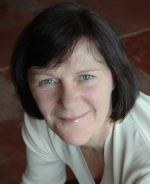 Olga follows the tradition of iconography developed by the Orthodox church since the beginnings of Christianity. This tradition includes preparation of both the painter and the material. The painter is prepared through spiritual practices of inner silence, which may involve participation in the sacraments. The painting itself involves lengthy preparation of the materials as well as strict symbolic conventions. Thus the tradition prepares and supports the painter at every stage to create a venerable icon that holds theological and spiritual presence.
Current Projects
Olga is currently working on and preparing a number of icons which may be purchased in the future.
These include:
St Catherine of Alexandria (full figure)
Holy Virgin Kardiotisa
John the Baptist (full figure with wings)
The Announciation